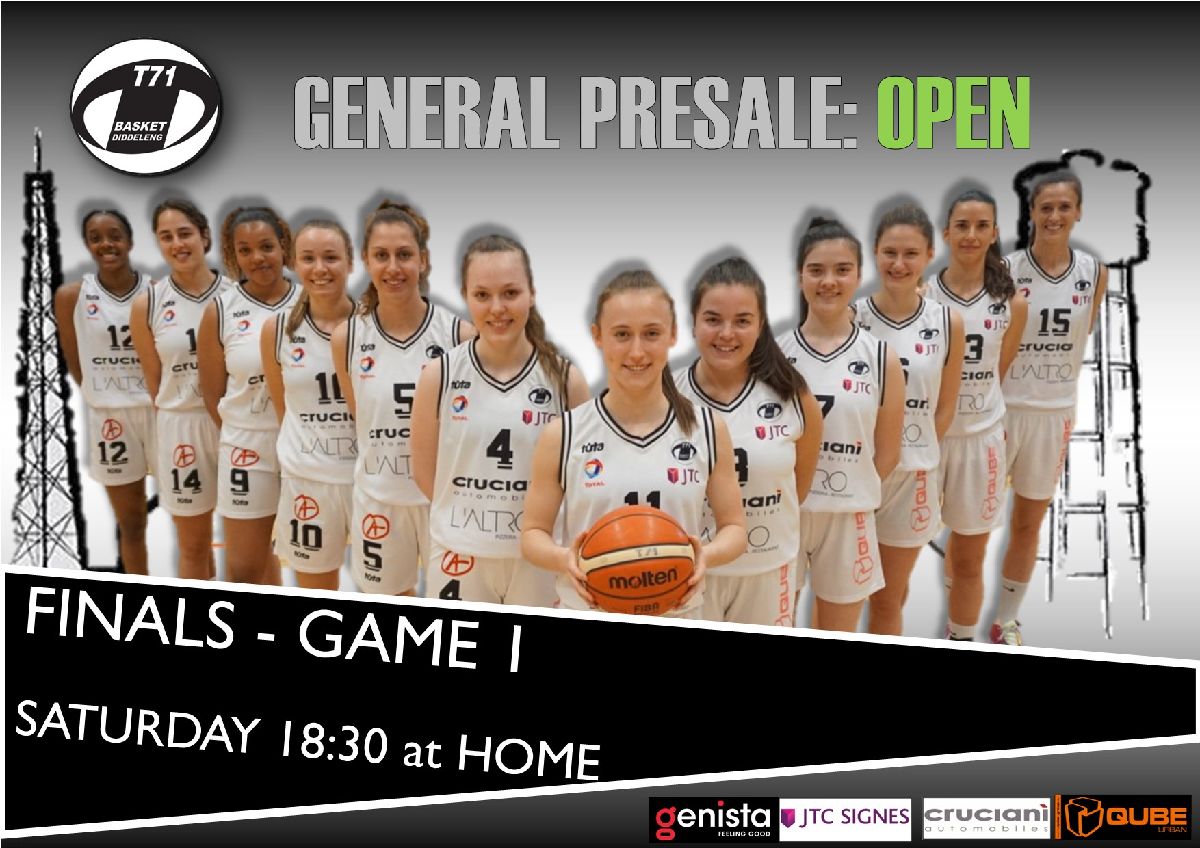 Ticket Information for Saturday
Get your tickets fir the big final on Saturday!
Important:
NO TEST, NO TICKET!
Saturday's deciding game will be played in front of an 150+ audience.
To be admitted to the game, you have to show a valid negative test result!
Please provide yourself either with a PCR Test of less than 72 hours or a certified self-test of less than 24 hours.
To book your tickets (max. 4 tickets/person), please send a mail indicating the name(s) of the visitor(s) and a phone number to reservation@t71.lu
In case you have no possibility to provide yourself with a Covid-test, you can ask for an appointment with our own testing team on Saturday morning. 
Be aware: The spots for testing are limited and reserved for Dudelange fans only!  If you need such a spot, please mention it in your reservation mail!
We cannot be clear enough: no person will be allowed at the gym if they cannot show a negative test result at the entrance! This is imposed by the national health authority!
Thank you for your understanding and we hope to see lots of you at the gym pushing our Ladies!
Résidence fans: please contact your club.
++++
Wichteg:
OUNI TEST, KEEN TICKET!
Den entscheedende Match e Samschden gëtt virun méi wéi 150 Leit gespillt. Aus dem Grond muss jidereen bei der Entrée entweder ee negativen PCR Test vu manner wéi 72 Stonnen oder een zertifizéiert Testresultat vun engem Schnelltest vu manner wéi 24 Stonnen virweise kënnen. Mär bieden Ärch dest wann méiglech selwer op de bekannte Plazen ze organiséieren.
Fir Är Plazen (max. 4 Ticketen/Persoun) ze reservéieren, schéckt w.e.g. eng Mail mam Numm vun den Gäscht an enger Telefonsnummer op reservation@t71.lu
Am Fall wou der keen Test kënnt besuergen, bidd den T71 Tester um Samschde Moien un. Des Plazen sinn limitéiert an fir T71-Supporter reservéiert. Falls Där hei ee RDV braucht, dann deelt eis dat w.e.g. onbedéngt an Ärer Email mat.
Mär kënnen et net oft genuch soen: 
Ouni negativt Testresultat, kënnt ee net an d Hal eran! Dest ass eng Fuerderung vun der Santé.
Mär soe Merci fir d Versteesdemech a freeën eis drop Ärch e Samschden an der Hal ze begréissen fir eis Damen zum Titel ze pushen.
Walfer-Fans: w.e.g. bei Ären Veräin mellen.