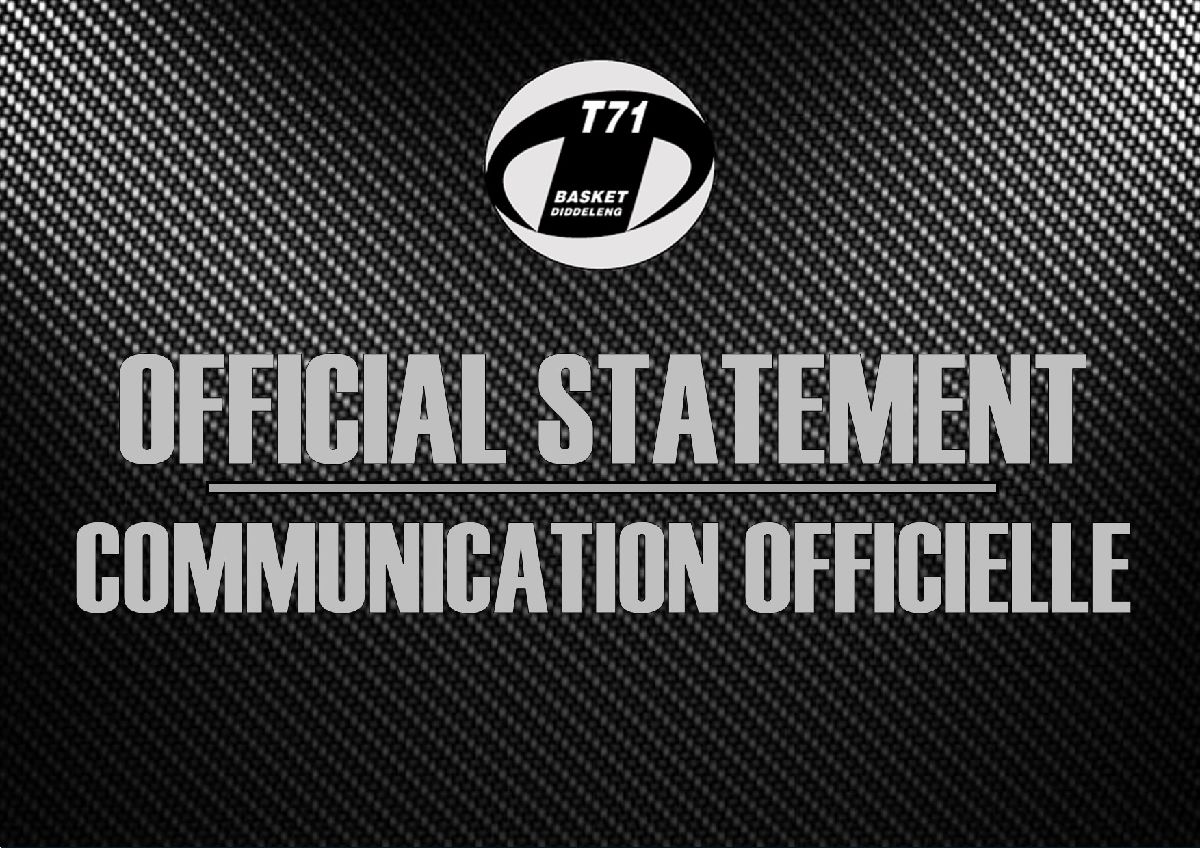 Ticket Information for Wednesday
We keep it short:
- Wednesday's game 2 of T71-Residence will be played in front of an 150+ audience
- please provide yourself either with a PCR Test (<72 hours) or a certified self-test (<24 hours)
- to book tickets (max. 4/person), please send a mail to 
reservation@t71.lu
 indicating the name(s) and a phone number
- we offer Covid-testing again but the spots are limited and for T71 fans only. You can ask for an appointment for Wednesday between 16h15 and 19h00 at Centre Hild
- remember: no person will be allowed to the gym without a negative test result at the entrance. This is imposed by the national health authority 
- if you didn't get a confirmation by mail, your reservation is not complete and you are not allowed to the gym.
- presale closes at Wednesday 14h00

Thank you for your understanding
We ask Residence fans to contact their club.

++++

Mir faassen eis kuerz:
 
- déi 2. Halleffinale T71-Residence gëtt viru méi wéi 150 Leit gespillt
- jidderee muss bei der Entrée en negative PCR-Test (<72 Stonnen) oder en zertifizéiert Testresultat vun engem Schnelltest (<24 Stonnen) virweise kënnen
- fir Är Plazen (max. 4/Persoun) ze reservéieren, schéckt w.e.g. eng Mail mam Numm & Telefonsnummer vun de Gäscht op 
reservation@t71.lu
.
- am Fall wou der keen Test kënnt besuergen, bitt den T71 Tester e Mëttwoch tëscht 16h15 an 19h00 am Centre Hild un. Dës Plaze si limitéiert a fir T71-Supporter reservéiert. Deelt eis mat wann der e RDV braucht. 
- wichteg: Ouni negativt Testresultat, kënnt een net an d'Hal eran! Dëst ass eng Fuerderung vun der Santé.
- Är Reservatioun ass eréischt komplett wann der dat vun eis confirméiert krut. Anescht kommt der net an d'Hal. 
- de Virverkaf geet bis Mëttwochs 14h00

Mär soe Merci fir d'Versteesdemech
 
Walfer-Fans: mellt Äerch w.e.g. bei Ärem Veräin.